Silencing Dissent — It's easier in a COVID world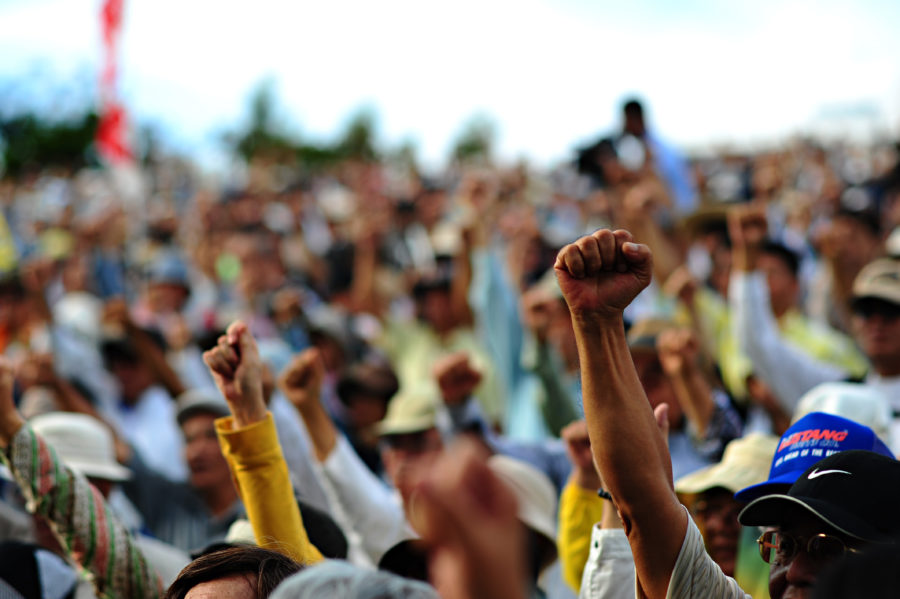 By Abby Henderson
Abby Henderson is an Advocacy Counsel, who leads ICAR's work on protecting protest. Learn more about Abby here.
The global pandemic caused by the novel coronavirus has changed the way we live and work in a matter of months. For activists and human rights defenders, the spread of the coronavirus has meant no more public gatherings and protests and decreased access to public participation and courts. Many countries have also begun to employ or enhance surveillance and tracking measures to stop the spread of the virus in their countries. Although human rights defenders and activists are all too familiar with crackdowns on protest, legal bullying, threats against their lives, and surveillance of them and their families, actions that are used to stop the spread of the coronavirus have the potential to exacerbate the tactics used to silence and monitor their dissent. The realities of responding to the coronavirus may, unfortunately, be benefitting a variety of actors who wish to silence those who speak out in service of the common good–SLAPP bullies, autocratic regimes, and paramilitary groups alike.
How SLAPP Bullies May Have an Advantage During the Pandemic
One common way that public watchdogs and other activists are bullied into silence is through the use of Strategic Lawsuits Against Public Participation (SLAPPs) and related legal bullying tactics. SLAPPs masquerade as legitimate civil lawsuits, alleging claims, such as "defamation" and "interference with contract," but are really being brought to harass and silence the filers' critics. SLAPP claims don't have to succeed in court to be successful. SLAPP filers win when they divert their critics' time and resources away from their activism and frighten those who might launch similar campaigns. Before some SLAPP bullies file lawsuits, and sometimes in lieu of a SLAPP, they will send a "cease and desist" letter. Cease and desist letters typically come from the SLAPP bully's lawyer and contain intimidating language that threatens a SLAPP suit if the advocates do not immediately stop their criticism. Cease and desist letters, as well as the threat of or filing of SLAPPs, are often successful in scaring human rights defenders and activists into silence.
In the midst of the global pandemic, these tactics may become more effective. SLAPP bullies may be advantaged in the following ways:
Increased online speech may be fodder for SLAPP suits and future bullying. Shelter in place and similar lockdown measures around the world have moved people indoors and online. Although some physical protests have continued, activism is now more reliant on the Internet. Because SLAPPs are typically based on defamation claims, we may see a rise in SLAPPs as a result of increased online speech, which is more easily tracked and traceable than in-person protests. Online statements are typically more attributable to a single person and remain online indefinitely, even when one may attempt to remove them. This makes those who post online criticism of companies, wealthy or powerful individuals, and in some cases governments, more vulnerable to being SLAPPed.
Increased online speech may also assist SLAPP bullies in connecting critics whom the bullies claim are working in concert against them and gathering more private information in future litigation. Corporations in the United States have brought federal racketeering claims, which have historically been used against mobsters and carry hefty penalties such as enormous fines and jail time, against activists as a new SLAPP tactic. In these cases, companies claim that civil society groups are working in concert to damage their business prospects and reputations. Companies have worked to discover as much information as they can from as many activist groups as they can to prove these claims in court. With the increase of online work and the use of tools we know have vulnerabilities, activists may be creating more (and more traceable) information that companies could try to use against them in future SLAPP claims.
Limited access to courts may allow SLAPP suits to drag on and achieve their intended effect. SLAPPs filers may also benefit from the impact that the pandemic has had on many judicial systems. In the United States, some courts have closed and many have limited their capacity and extended litigation timelines. Closing courts or limiting capacity may result in delays in the judicial resolution of SLAPP cases, leaving SLAPP targets with meritless cases looming over their heads indefinitely while the world waits for the pandemic to slow. This reality may make the true goal of SLAPPs—intimidating and silencing critics—more effective because SLAPP victims will be unable to swiftly get meritless lawsuits against them thrown out of court.
Similarly, SLAPP bullies may not even need to file cases during this time for the SLAPP tactic to be effective. Many SLAPP filers and their legal teams use cease and desist letters to intimidate their critics before filing claims with a court. These letters typically call upon the critics to stop criticising a corporate actor or individual and to preserve certain information, documents, and correspondence in anticipation of future litigation. Environmental and social justice movements are frequently able to fight back against the use of this tactic by bringing the letter to the public's attention and stigmatizing this bullying behavior in the court of public opinion. In a time where news coverage is rightly dominated by the COVID crisis and people are unable to gather for protests, the ability to combat these bullying tactics may become more difficult. Therefore, the use of cease and desist letters and other non-judicial tactics for intimidating public watchdogs may become more effective as access to courts remains limited.
The means by which activist groups typically combat SLAPP suits may be less effective in the midst of a global pandemic. SLAPPs and their accompanying tactics are sometimes successfully combated by exposing the threat publically through the use of communications and campaigning tools. SLAPP bullies can sometimes be publicly shamed through the use of these tools into not filing SLAPPs or rescinding their SLAPP claims when they feel it may hurt their reputation and/or bottom line. The Protect the Protest task force has successfully employed communications and campaigns resources when needed to combat SLAPPs in the United States. But, as coronavirus dominates media coverage, this tactic may become less effective because it will be harder to break into the news cycle with the story of legal bullying if it is unrelated to the pandemic. This reality may benefit SLAPP filers who might otherwise back down in the face of public criticism related to their SLAPP efforts.
SLAPP bullies may not be the only actors wishing to silence dissent that benefit from a world in the midst of a global pandemic.
The global pandemic has led governments of all dispositions to limit public gatherings, but some have used the opportunity to put in place measures that may outlast the global pandemic and disproportionately affect public watchdogs.
Governments have used the coronavirus to quash protests. While legitimate measures to curtail public gatherings to stop the spread of the coronavirus may be necessary, a number of governments have seemingly implemented restrictions on public gatherings to stop ongoing protests and prevent anticipated gatherings. For example, with only 20 confirmed cases of coronavirus in Russia in early March and on the day that President Putin furthered a proposal that would keep him in power until 2036, Moscow banned gatherings of more than 5,000 people for the month. This rule may have been implemented as a pretense for quashing opposition protests that were already planned in the days following the announcement of the new rule. Additionally, in India, the abrupt announcement and implementation of a country-wide lock down in March led police in riot gear to shut down one of the longest-running protests against President Modi's citizenship law, which many see as discriminatory against Muslims. On April 14, Modi announced a one month extension of the lockdown, which sparked large protests by migrant workers who have been stuck in their cities of employment, far from family, since the lockdown was initially enacted. Protesters were beaten and disbursed by police wielding batons. In response to protests by residents in shantytowns in the Philippines who had not received promised government provisions of food and other supplies, President Duterte ordered his police and military to "shoot dead anyone 'who creates trouble'" during the country's lockdown. These are only a few examples of how government responses to the coronavirus have curtailed freedom of assembly around the world.
Governments have implemented new mass surveillance and tracking tools that may be used disproportionately against dissidents. Since the coronavirus began to spread globally, numerous governments have worked quickly to pass and implement laws that provide them with increased power to track their citizens. Several countries have opted for increased use of cell phone location data, which they are using in a number of ways, including to track those who have recently traveled, as well as those who are caught breaking quarantine regulations. China has implemented one of the most widespread surveillance systems in response to the pandemic, using facial recognition, cell phone location data, drones, and cell phone applications to monitor peoples' health and movement. Russia is contemplating the use of QR codes to monitor the time that people have to do a given activity, such as walk their dog or go to the grocery store. Even democratic states, such as the United States and U.K., are contemplating what surveillance technology they should use and how they can use it. Privacy advocates are weary of government claims that data will be collected with consent and will be in place only for the time required to combat the pandemic. Much of the privacy concerns arising from the increased implementation of government surveillance in response to the pandemic is born out of a fear that many of these measures have the potential to remain in place long after the virus has been stopped, as we have experienced in the United States with the US PATRIOT ACT in the years since 9/11.
Governments have expanded their power to detain or expel from their countries those that criticize the official response to the pandemic. A number of governments, including China, Egypt, and Turkey, have taken steps to expel journalists or detain those who speak out against their government's response to the pandemic. Despite the documentation of a sluggish response from the government in early March, President Erdogan of Turkey has targeted, including with criminal complaints, a number of journalists who have posted criticism of the government on social media. Journalists in Thailand have faced a similar fate under the Prime Minister's new emergency authority to censor news media. Along the same lines, a number of countries, including Hungary, have enacted emergency legislation that allows authorities to jail those who are alleged to have spread disinformation about the virus and government responses to the virus.
Governments have not provided human rights defenders with adequate protections in "lock down" situations. According to the Business and Human Rights Resource Centre, "Defenders become easier to target, when they isolate, which is compounded by the loss of protective accompaniment and the lack of media attention to their situation." No where has this been more evident than in Colombia, which saw the assassination of three prominent social activists in the earliest days of the county's lockdown. Armed rebel groups, many of which make their money through drug trafficking and illegal mining, are targeting activists they see as impediments to their profits while the government is wholly focused on stopping the spread of the global pandemic in Colombia. Several social activists expressed fear for their lives as the country entered into a 19-day lockdown period on March 24. This is just one country example of how decreased scrutiny around attacks on Human Rights and Environmental Defenders leave those actors more vulnerable to attacks.
These examples demonstrate how those who dare to speak out against corporate abuse and the actions of governments and wealthy individuals may be at increased risk of being targeted during the coronavirus pandemic. In a time where public watchdogs must be vigilant in their monitoring of how companies and governments alike are responding to the crisis, civil society groups and organizations must come together to protect our own. We must retain our ability to speak out in service of the protection of human and environmental rights, and we must do so together.