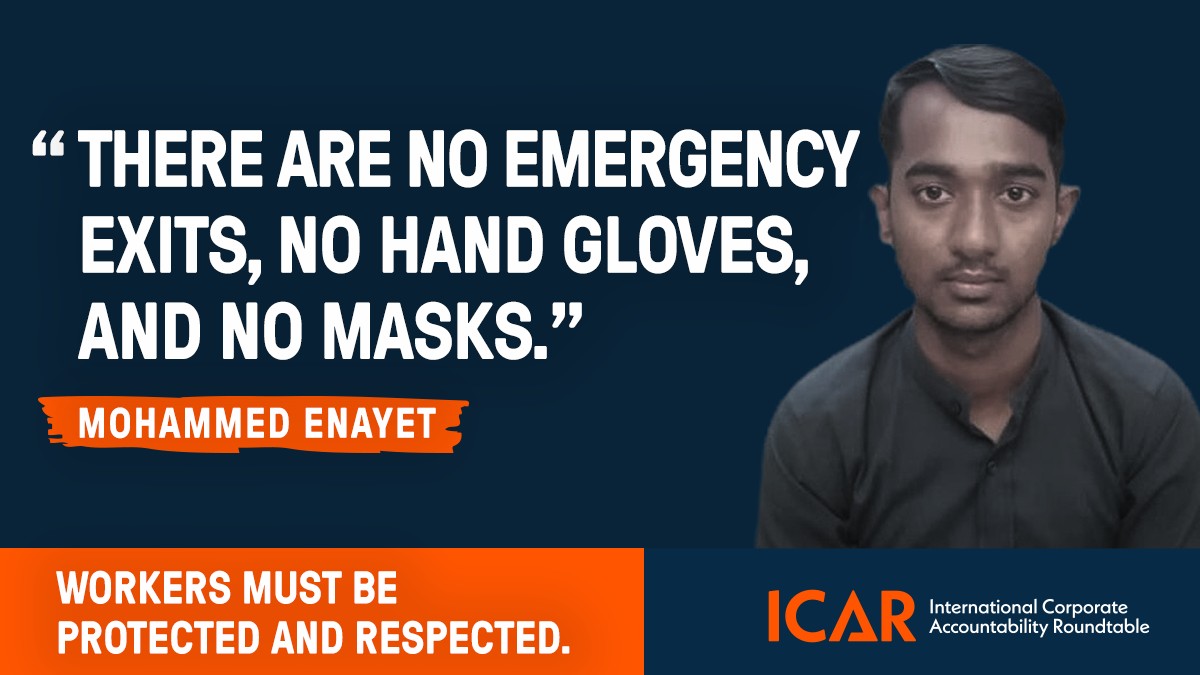 A Hostile Place: Stories of Abuse in the Garment Industry
In the Bangladeshi garment factories, workers are used to management using intimidation and violence in the workplace. Due to high production demands, workers are prevented from taking restroom breaks, drinking water, leaving at reasonable hours, getting leave for medical emergencies, and much more.  Additionally, the wages are so low they are "effectively trapped in abusive conditions," while also being subjected to sexual harassment and abuse. Workers describe this environment as a feeling of powerlessness and the "opposite of safety."
27-year-old Mohamed Enayet sheds light on what really goes on inside garment factories. He says
"sometimes, we were mentally tortured by the authority – mainly the supervisors of the factory. They would verbally abuse us and scold us at times for not reaching production targets or not working to our full potential. Once a woman was slapped by the General Manager for not working properly."
25-year-old Nasrin Akter Sathi who worked in the sewing section of a garment factory talks about the behavior of upper management. She describes
"female supervisors in charge are even worse than the men. They even slap and beat female workers at times. Scolding and badmouthing are regular, everyday experiences for almost everyone. They even inappropriately touch us." 
Furthermore, due to the high demand and pressure for production, safety measures have been put on the backburner, despite industrial reform programs being put forward in order to prevent fire and electrical disasters. In 2013, a building collapsed in Bangladesh's Rana Plaza, killing over 1,100 garment workers and injuring more than 2,000. Six years after this tragedy, 90% of garment workers surveyed reported that their jobs were impacting their health, with issues including damaged eyesight, injuries to hands and feet, severe back pain, exhaustion, and depression.
Some workers such as 35-year-old Mohammed Anisur Rahman from Dhaka describe safety protocols as
"minimal. Sometimes the workers are given training on fire-hazard. There have been a few injuries during my time as a worker in this factory. The injured workers are given treatment but not any kind of compensation whatsoever."
Even during COVID, workers' safety and health were not prioritized.
Mohamed Enayet reveals that
"there was not enough light and air in the room that we worked in. There was no space or distance between the workers working, even during the period of Covid-19. There are no rules and regulations on safety measures as there are about 205 workers working on the same floor with no partition."
Due to economic demands, many workers are forced to continue working in such poor conditions and unsafe environments.
States have enacted legislation that protects those in power from corporate exploitation through corruption. However, there are no legal safeguards protecting the most vulnerable populations, including garment workers in Bangladesh, from corporate exploitation. States where international brands are headquartered need to enact legal safeguards, requiring corporations to conduct thorough human rights due diligence and prevent human rights abuses and corporate exploitation from continuing to taint their supply chains.